THE NEW ERA OF SIM RACING
SOELPEC is here to take you one step further. The new Spectra XR is developed with true passion to create the best-performing steering wheel ever.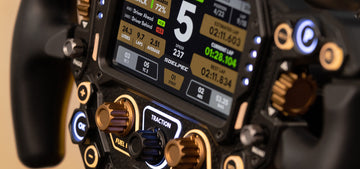 SOELPEC - SPECTRA XR
A Fresh Approach to Classic Racing Wheel Design
A big screen, illuminated RGB buttons & additional LEDs that can be programmed to show telemetry information. Spectra XR creates a new dimension of communication that will flow through you.
Combined with the most advanced materials and components, there won't be much else to ask from a sim racing steering wheel.
DISCOVER SPECTRA XR
Subscribe for news and future updates
about SOELPEC products!